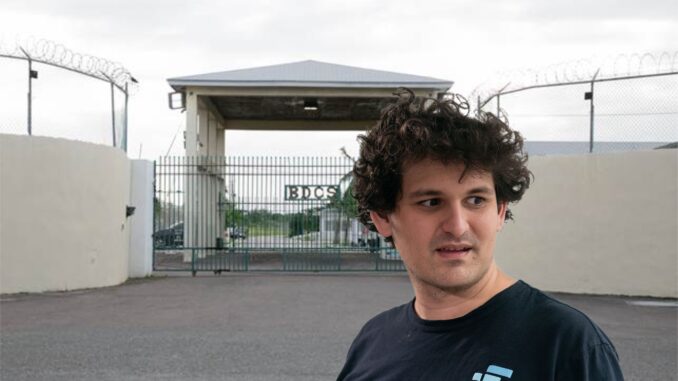 Disgraced former FTX CEO Sam Bankman-Fried (SBF) is reportedly set to reverse his position on contesting extradition to the United States just four days after a judge sent him to prison on remand.
According to Reuters, Bankman-Fried will appear before a judge on Monday, Dec 19, to surrender to extradition. Once extradited, he will likely appear in a US court in New York to face various fraud charges.
On Tuesday, Dec. 13, prosecutors with the Department of Justice's Southern District of New York unsealed an eight-count indictment against SBF. His alleged crimes cover wire fraud, securities fraud, campaign finance violations, and money laundering.
In addition to the DOJ, the SEC and CFTC sued Bankman-Fried Tuesday on various securities and commodities fraud charges.
Bankman-Fried faces up to 155 years in prison if convicted on all charges.
Bahamian authorities arrested FTX on Monday, Dec. 12, after US prosecutors informed them of impending criminal charges. A grand jury in New York returned an indictment against Bankman-Fried on Friday, Dec. 9.
Reporting on FTX's implosion cite $9-$50 billion in customer and investor money missing or squandered.
The reversal on contesting extradition follows Bankman-Fried's bail denial on Dec 13. At that time, Magistrate Joyann Ferguson-Pratt labeled him a 'flight risk.'.
The former FTX CEO's lawyers had argued that he did not have a criminal record and was suffering from depression and insomnia. FTX and Alameda Research founder SBF also has a strict prescription medication schedule, taking Emsam and Adderall daily.
His vegan diet was also cited by his Bahamian attorneys as a reason remand would prove particularly onerous on him.
SBF's lawyers reportedly filed a second bail application in the Supreme Court on Dec 15. The Supreme Court scheduled a hearing in early January on that application.
Changing course on extradition
SBF is now set to return to court on Monday, Dec 19. Reports confirm that after four days in jail, he wants to waive his right to contest extradition.
Should Bankman-Fried get his wish to be extradited to the US, his lawyers will apply for bail in that country.
US prosecutors will likely argue against freeing him as they did here in The Bahamas through local prosecutors. Still, his chances- though slim- are probably better in his home country.
For starters, once back in the United States, a trial for Bankman-Fried is likely at least a year away. In media interviews since the collapse of his crypto empire, SBF has refused to acknowledge intentional misappropriation of customers funds.
Additionally, recently convicted tech fraudster Elizabeth Holmes was charged in 2018 for taking more than $700 million from investors but was only convicted and sentenced this past September. Holmes was free on $500,000 bail while she awaited trial.
Another financial fraudster often compared to Bankman-Fried, Bernie Madoff, was given $10 million bail in 2008 after being indicted for defrauding investors of $36 billion using a Ponzi scheme. Madoff agreed to electronic monitoring and home detention as conditions of his bail. However, a judge later ruled he was a flight risk and revoked bail months later.
In any case, Bankman-Fried faces an uphill battle to remain free pending trial. As Magistrate Ferguson-Pratt identified, SBF likely has access to 'substantial finances,' increasing his potential flight risk.
Ironically, the nature of cryptocurrency makes it more difficult for authorities to track and secure all the assets at SBF's disposal were he to decide to 'run,' which does not bode well for his bail application.
In addition to US charges, local authorities are also investigating Bankman-Fried on potential crimes committed through his FTX Digital Markets firm.
The Bahamas-based crypto exchange was placed in liquidation by the Supreme Court after the Securities Commission deemed it insolvent.
In the days following his lockup, the international media has shone a bright spotlight on the Bahamas Department of Correctional Services. The former 'Fox Hill Prison' was deemed one of the top five worst prisons in the world, with media highlighting claims of rat infestations and 'slop' buckets use.
Follow The Nassauvian for more Big News.