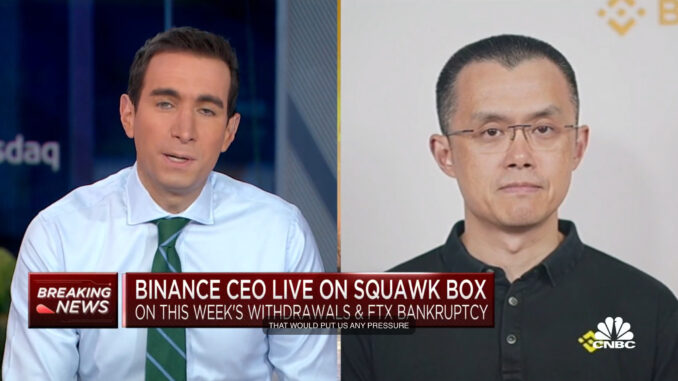 As the fallout from the collapse of crypto exchange continues, competitor Binance now claims accountants 'don't know how to audit crypto.'
The bizarre statement comes as the company CEO and owner, Chengpang Zhao (CZ), continues to face scrutiny surrounding liabilities and reserves.
CZ reportedly played a central role in exposing FTX, with Attorney General Ryan Pinder labeling the company a 'rival' of FTX during his national address.
A guest on CNBC's Squawk Box, CZ appeared unconvincing when asked why a big four accounting firm has not audited his company, claiming big four firms do not know how to audit crypto.

The Binance Founder and CEO also repeatedly declined to answer definitively whether his company would be ok should US bankruptcy court order a clawback of the $2.1 billion it received from an FTX buyout of its stake in 2021. According to CZ, Binance will 'let the lawyers handle that.'
Yesterday, the auditor Mazar quietly removed a page on its website attesting to Binance's so-called 'proof of reserves.' Mazar's Nov. 22 audit statement of Binance sought to calm skeptics.
During a US House of Representatives hearing into FTX and crypto this week, Congress confirmed that Binance and stablecoin Tether were both under investigation by the US Justice Department.
Tether, which has ties to Bahamas-based Deltec Bank, is also under criminal investigation by the Southern District of New York for alleged bank fraud.
In the wake of news of investigations, Binance saw withdrawals of $3 billion on Tuesday alone.
The company is currently advertising up to 135% APR on futures investments of its BUSD token as well as USDT (Tether tokens), further heightening investors' concerns.
In traditional markets, such high APR returns on token investment would inherently correspond with higher risks.
Follow The Nassauvian for more Big News.