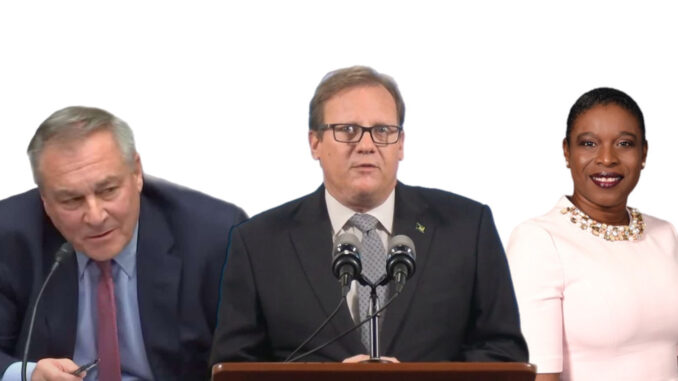 In court filings to oppose Bahamas Supreme Court joint provisional liquidators (JPL) from gaining access to FTX.com systems, James Bromley, attorney for FTX US Debtors, said the company does not "trust the Bahamian government." Bromley claimed the JPL could use data access to siphon off assets from the bankrupt company.
The contentious jurisdictional fight between US Debtors and the JPL continues to escalate, with lawyers for FTX US claiming they have evidence that Bahamian regulators had worked with FTX's founder, Sam Bankman-Fried (SBF), to undermine the US bankruptcy case and withdraw assets to the detriment of some creditors.
The JPL had asked US bankruptcy judge John Dorsey to order FTX US to give them access to the company's Slack, Google, and Amazon Web Services accounts and data to fulfill their Bahamas Supreme Court-mandated function of liquidating FTX Digital Markets.
New FTX CEO John Ray testified before the US Congress this week that in the hours after bankruptcy proceedings commenced, 'Bahamas government' officials reportedly asked Bankman-Fried to mint new digital assets worth "hundreds of millions of dollars."
Attorney General Ryan Pinder and the Securities Commission of The Bahamas (SCB) have accused Ray of misstatements around actions the SCB took to secure creditor funds.
SCB released a statement saying, "Every action taken by the Securities Commission of The Bahamas was in strict accordance with our country's legislation and with orders made by the Supreme Court of The Bahamas. These actions included securing the transfer of potentially commingled digital assets of FTX Digital Markets Ltd. and affiliates to a secure location under the authority of an Order issued by the Supreme Court of The Bahamas.
"The Commission holds those assets as trustee only (under Bahamian Law), and they will be ultimately distributed, to creditors and clients of FTX, wherever they may be located, in accordance with the court's direction," the statement read.
Email correspondence
In addition to the 'minted' tokens, email correspondence between SBF, AG Pinder, Securities chief Christina Rolle, and others, is also a point of contention.
On Nov. 9, Bankman-Fried offered to unfreeze withdrawals for Bahamian customers and promised to do so if he did not hear back from the AG.
It's unclear whether AG Ryan Pinder or anyone on the email chain advised SBF against this, but he made good on his promise the following day. Some 1500 purported 'Bahamians' withdrew $100 million from the collapsing exchange.
The SCB has said these withdrawals are subject to potential clawback.
Judge Dorsey has not decided on the JPL's access to FTX's systems, and the two sides will continue arguments in court.
However, lawyers for FTX have said if the judge grants the JPL's request for system access, they will immediately appeal the decision and request a stay. According to Bromley, access by the JPL would be "dangerous."