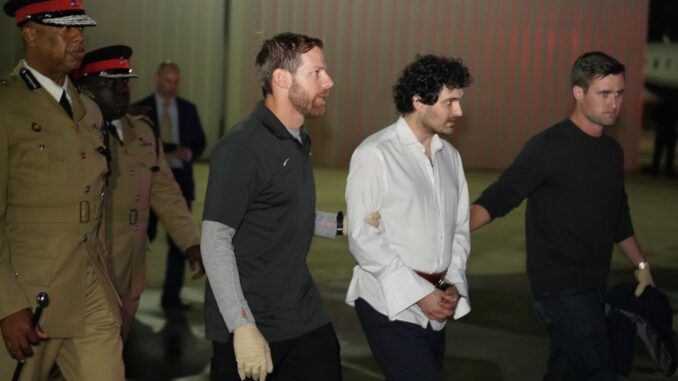 A New York federal judge approved a bond package for FTX founder Sam Bankman-Fried (SBF). The disgraced 'crypto King' was extradited to the US yesterday and appeared before US Judge Gorenstein in New York moments ago.
Assistant United States Attorney (AUSA) Roos proposed a $250 million bond signed by SBF, his parents, and a non-family member. SBF's parents' Palo Alto home also secures the bond.
Additionally, SBF would be required to turn himself into Pre-Trial Services in California by 10 am tomorrow ( Dec. 23). Other stipulations for bond include home detention, passport surrender, and monitoring.
Under the bail conditions, SBF cannot conduct any new business without Pre-Trial Services approval. He cannot spend more than $1000 without that department's permission except on attorney's fees.
AUSA Roos said the proposed bond package for SBF would be the largest-ever pre-trial bond. He noted that government did not oppose release because SBF's assets have diminished, making the risk to the community marginal.' SBF's consent to extradition should be given weight, argued Roos. If The disgraced former FTX boss had resisted, Roos said, the United States would have opposed bail.
The proposed bail package enables SBF to live at home where he can exercise and receive substance and mental health treatment, said AUSA Roos.
Bankman-Fried's defense team consented to the bond package.
Judge Gorenstein then granted bail to SBF on the proposed conditions, adding that SBF has achieved enough 'notoriety' that it would be impossible for him to continue financial transactions. The judge noted this notoriety also goes to flight risk.
Dates for finalizing bond-agreement signatures and deeds to SBF's parents' home are in early January.
"If you violate the conditions, a warrant will be issued for your arrest. Do you understand?" Judge Gorenstein asked Bankman- Fried.
SBF answered somberly, " Yes, I do."
Follow The Nassauvian for more Big News.