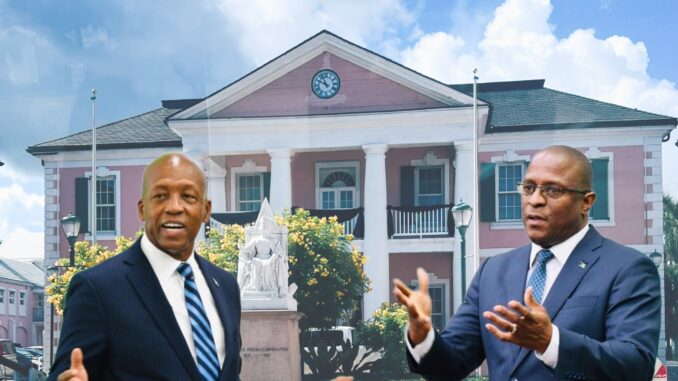 Opposition Leader Michael Pintard is calling on Minister Alfred Sears to step down after misleading Parliament.
After weeks of denying he saw recommendations to execute a BPL fuel hedge, Minister of Works Alfred Sears finally came clean and admitted that he had indeed received advice.
Sears, however, laid the decision not to execute the BPL hedge trade at the feet of the Prime Minister. Last week, Sears said PM Davis "communicated" the recommendation was "not supported."
According to Sears, "Only the Ministry of Finance can support the using the public treasury's money in an undertaking which it is not persuaded at that time, given what it was before the Ministry of Finance, that it was not in the interests of the country at that time.
"The Honourable Member, Madame Speaker, has a draft cabinet paper which only could have been… well, it was addressed to the Minister of Finance.
"So they understood where the determination was to be made if the draft Cabinet paper is addressed to the Minister of Finance for the Minister of Finance's consideration," Sears admitted.
"The Minister of Finance communicated that based on what was presented, it was not supported," he said.

Misleading Parliament
On his feet in the House, only weeks prior, Sears denied ever receiving hedging advice.
Had either he or the Prime Minister acted prudently, it would have saved Bahamians at least $90 million in fuel costs, which will continue to climb to ungodly levels through 2024.
Sears attempted to deflect from his grave action of misleading the House by suggesting Pintard's question about the hedge took him by surprise, and that he had answered before researching the issue.
But his attempt to obfuscate bears little credibility in light of his recent confession. And it's certainly embarrassing for a senior politician to offer such a flimsy excuse.
It is not believable that Sears did not know or understand what Pintard was asserting when Sears offered false information to the House and to the country.
In the weeks after being questioned in parliament, the minister of works never sought to set the record straight.
Had Pintard not obtained unimpeachable proof refuting Sears' 'misstatements,' there's little faith that Sears would have spoken candidly.
It is unbecoming of a parliamentarian and Cabinet minister to mislead the House and the country. And Westminster conventions make it clear he ought to do the 'honourable thing' and resign.
The PM's role
Prime Minister Davis's role in this sordid event is still unclear. He denies Sears' suggestion that he knew of the hedge recommendations.
If Sears is correct when he said the '"minister of finance" communicated with him, that would mean the PM also misled parliament.
Last month Davis said: "I received no advice or recommendation, saw no papers…in that respect. I never saw any; none reach[ed] my desk. And as far as I'm aware, it did not reach…well, the Minister will speak for himself. That never happened."
Yesterday he doubled down on his denial, saying, "I saw no documents about that, only this weekend. I was provided with some information concerning that, which I am now assessing to determine all these misstatements about what actually went wrong. What I do know is that the financial secretary had some views about proceeding. And I think those were the views that [were] adopted.
"I had no knowledge of it. [He said] the Ministry of Finance had knowledge of this. That's a big ministry. It was not me."
Bahamians will have to judge between PM Davis and Minister Sears' claims.
However, Sears's admission of receiving advice he once denied is as plain as day:
He knew of the hedge recommendation.
As Minister of Works, he failed to act in the best interest of Bahamians.
He then denied allegations in the House that he ever received BPL's hedge advice.
Then, he later admitted in the House that he actually did receive the advice but that the PM rejected it.
Minister Sears misled parliament.
As a consequence -unfortunately for him- he should resign from Cabinet.
Barring that, Prime Minister Davis must step in and remove Sears from the Ministry of Works.
And, in light of the PM's own explanation, perhaps Financial Secretary Wilson needs to join Sears out the door.
Not only did Wilson cost Bahamians tens of millions of dollars we cannot afford, he also failed to inform PM Davis of the ministry's role in the BPL fuel debacle in its aftermath.
Check out The Nassauvian for more Insightful Opinion.