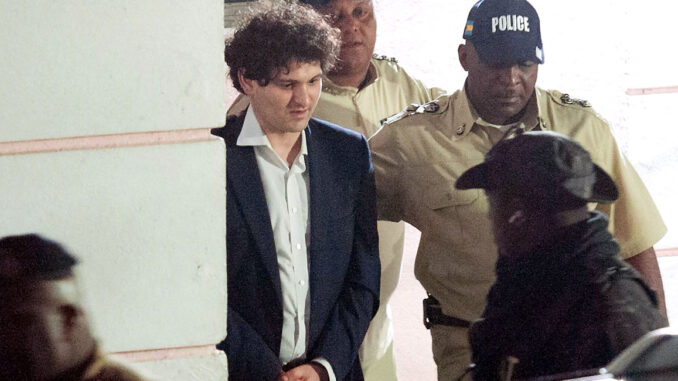 Magistrate Joyann Ferguson-Pratt denied bail to disgraced former FTX CEO Sam Bankman-Fried (SBF). In handing down her decision, Ferguson-Pratt said she deemed SBF a flight risk with access to substantial finances.
"I am of the view that the risk of flight is so great that Mr. Bankman-Fried ought to be remanded to custody," Ferguson-Pratt said.
Bankman-Fried is now on remand at the Bahamas Department of Corrections. He will return to court for an extradition hearing on Feb. 8, 2023.
SBF's lawyer Jerome Roberts had argued for cash bail. He said his client was not opposed to wearing an ankle monitor and home confinement. Roberts argued that SBF had been a permanent resident here for "years" and had not run away even though he had the opportunity.
Bankman-Fried moved to New Providence in 2021, when the country became headquarters to his once multi-billion dollar FTX empire. Its subsequent collapse has cost millions of customers and investors billions of dollars in losses.
The prosecutor argued against bail, saying that the country's extradition treaty with the United States required Bankman-Fried remain in custody.
The magistrate told the courtroom that she had been "wrestling" with whether or not to grant him bail since she signed his arrest warrant on Monday.
"On a good day, I don't drink. Ask anybody. But yesterday, I was sure [going to] drink, " she said.
During yesterday's court proceedings, Magistrate Ferguson-Pratt allowed Bankman-Fried time to take prescription drugs. An officer retrieved a bag with SBF's medication, and the court temporarily excused him to ingest them and cover himself in Emsam patches prescribed for depression. Bankman-Fried testified on Tuesday that he also uses 10 mg of Adderall every four hours.
The fallen 'crypto-king' also cited his vegan diet as a reason remand to prison would be demanding on him, but that argument did not sway the judge.
Joseph Bankman and Linda Fried, both Stanford Law professors and SBF's parents, attended the magistrate's court hearing yesterday.
On Dec. 9, a grand jury in the US indicted Bankman-Fried. The Royal Bahamas Police Force executed an arrest warrant on Monday, Dec. 12.
US Attorney Damian Williams with the Southern District of New York laid out the unsealed indictment yesterday charging Bankman-Fried. The eight counts covered wire fraud, securities fraud, campaign finance violations, and money laundering.
In addition to the DOJ, the SEC and CFTC sued Bankman-Fried Tuesday on various securities and commodities fraud charges.
Attorney General Ryan Pinder issued a statement on Monday after SBF's arrest. In it he confirmed the government was aware of criminal charges against SBF filed in the US.
"As a result of the notification received and the material provided therewith, it was deemed appropriate for the Attorney General to seek SBF's arrest and hold him in custody pursuant to our nation's Extradition Act," said Pinder.
Bankman-Fried was to testify remotely in a US Congressional hearing into the fall of FTX on Tuesday, Dec. 13 but did not attend as planned as he was in custody.
Follow The Nassauvian for more Big News.