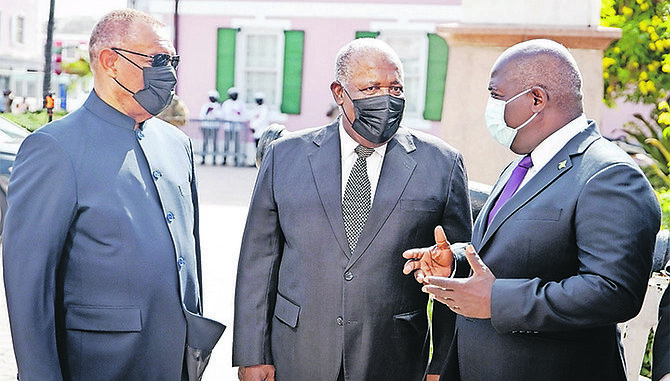 When former prime ministers Hubert Ingraham and Perry Christie stood side-by-side outside the House of Assembly this week, their 'ultimate successor,' Philip 'Brave' Davis, was not far away. The three men chatted easily, and within moments it became clear that the convenient photo op served as a tacit endorsement of Mr. Davis' quest to win control of the government at next month's general elections.
That the three men get along so well comes as no surprise to Bahamians. After all, Christie, Ingraham, and Davis had been law partners, colleagues, and close friends for decades.
The beginning of the end
Watching Mr. Ingraham and Mr. Christie in their retirement years, it's a wonder they ever convinced Bahamians they were ideological or political opposites. In truth, they are not. Both are former apostles turned apostates of the Pindling era. Mr. Christie later made his way back home to the Progressive Liberal Party (PLP). Mr. Ingraham, in contrast, joined the opposition Free National Movement (FNM).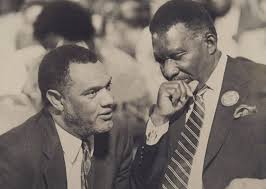 The Right Honourable Perry G. Christie speaks with the Right Honourable Lynden O. Pindling
If Mr. Pindling's name draws the ire of a generation of Bahamians for his perceived fall from grace during 'the drug years,' and for overstaying his welcome, what should voters say of the two men who collectively led the country as long as Sir Lynden?
Twenty-five years for Mr. Pindling at the head; twenty-five years for Christie, Ingraham, and Co.
The two former law partners went back and forth between 1992 and 2017; Ingraham, Ingraham, Christie, Ingraham, Christie.
So when Dr. Hubert Minnis won overwhelmingly in 2017, it signaled a shift – a new day, if you will – in Bahamian politics.
Yes, Mr. Minnis served in the Ingraham cabinet between 2007 and 2012, but it would seem that was not enough time to indoctrinate the good doctor in the ways of establishment politics.
Dr. Minnis has always been the odd man out.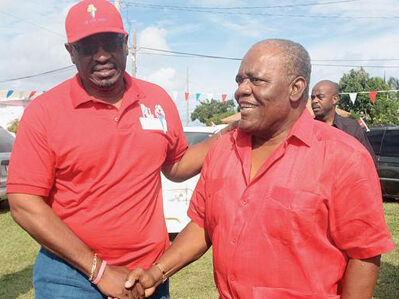 Current Prime Minister Dr. the Most Hon Hubert A. Minnis greeting The Right Honourable Hubert A. Ingraham while campaigning last election.
In fact, after the crushing defeat of an FNM candidate by a PLP candidate in the North Abaco by-election of 2012 for Mr. Ingraham's old seat, Mr. Minnis, then a novice FNM leader, declared that "the Ingraham era is over."
That one haphazard statement may have been the catalyst for a tumultuous five years Mr. Minnis would spend trying to hold onto control of the Free National Movement (FNM). Those years saw him stripped of his Official Opposition Leader title in the House, but succeed at holding onto the FNM's leadership position at convention leading up to the 2017 elections.
The end of the beginning
Mr. Davis' road to grasping the reigns of his party has been much smoother.
Serving as Mr. Christie's deputy during the last administration, the politically astute former minister of works survived myriad scandals -including the BAMSI fire fiasco – practically unscathed.
There's also the PLP's Peter Nygard 'campaign-contribution' connection, which remains a ticking time bomb ready to explode with potentially unsavory headlines for the country.
Nygard, the disgraced fashion mogul, is being prosecuted by the US Attorney's Office in the Southern District of New York on charges of sex trafficking and racketeering. Some of Mr. Nygard's alleged crimes are said to have taken place in this country. There are young Bahamian women who have spoken out about being victimized by the 'New Epstein,' who was a loud and proud PLP donor.
Earlier this year, Mr. Davis declared that his party's relationship with Peter Nygard 'is in the past.'
A new day
After Mr. Christie's resounding defeat at the polls in '17, which saw a former prime minister unseated for the first time in our history, Mr. Davis slid quietly into his old boss' chair.
As Christie's heir apparent, Davis was both the natural choice and, for many, the only choice as most of his former cabinet colleagues had been decimated at the ballot box.
At seventy years of age, and in his golden years, it is hard to rationalize why Mr. Davis is still pursuing the top job.
In his decades as an MP, then cabinet minister and deputy prime minister, Mr. Davis has few legislative accomplishments he can tout. His years at the Ministry of Works have not produced a signature project worthy of bragging. He hasn't espoused any game-changing ideas to move the country forward.
At best – were his party successful – Mr. Davis would be a caretaker PM, attempting to hold things together until the mantle is handed to a bolder, more dynamic leader.
Judging by Mr. Ingraham and Mr. Christie's recent comments though, 'caretaker' would be good enough for them.
If nothing else, Philip Davis represents a comfortable candidate the former PMs can get behind.
After all, their old law partner would not have publicly rebuffed their efforts to assist after Dorian. Or declared their era "over." Or upset the apple cart as Mr. Minnis has done since coming to power in 2017.
The Ingraham-Christie years were paper and ruler years; most government agencies have moved to digital under Dr. Minnis.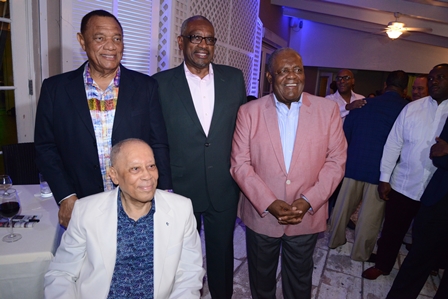 At his 90th Birthday Celebration at Balmoral Club on Friday, May 4, 2018; Sir Arthur, seated, and standing behind him, from left, the Rt. Hon. Perry Christie, Prime Minister, Dr. the Most Hon. Hubert Minnis, and the Rt. Hon. Hubert Ingraham. 
(BIS Photo/Peter Ramsay)
Outside the House of Assembly, where a giant of a man in former Governor-General and Deputy Prime Minister Arthur D. Hanna lay in state, Mr. Christie and Mr. Inhgraham engaged the press.
"I would not have [called an election] at this time myself, but that is how we differ," Mr. Christie opined.
"In the last 20 years, no one has won a second term," he reminded voters.
Mr. Ingraham, for his part, said a lot without directly saying much.
"I had one snap election," he said. "I called [an] election in March of 1997, which was about five months before the end of my term, and thereafter I determined that we ought to move towards a fixed election date as far as possible and I therefore held election in 2002 in May.
"Perry Christie came along and held it in May 2007. I came back, and I held it in May 2012. Perry Christie came back, he held it in May 2017."
Despite the implicit rebuke of Dr. Minnis' decision to call for a snap election, Mr. Ingraham insisted, "I have no views whatsoever. I have no views."
The former prime minister did not comment on why he and Mr. Christie failed to implement fixed election dates in their combined twenty-five years running the country.
The end of the end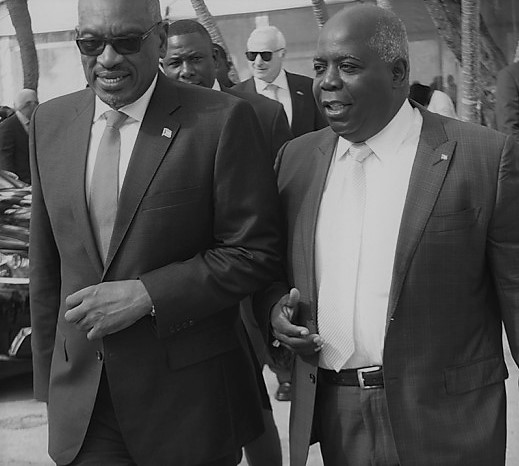 Prime Minister Dr. the Most Honourable Hubert A. Minnis walks with the Honourable Philip E. Davis.
Whatever happens in September, the Christie, Ingraham, and Co. years are fast approaching an end. Should Mr. Davis fall short next month, that would effectively mark the finale of the 'old guard' that started their 'turns' in earnest back in 1992.
No other acolyte of the former PMs appears to realistically have a shot at reaching the top. Most have aged out of contention.
It's about your future
Come 2026, there will be fresher faces on the scene. By then, voters will no doubt be hungry for them.
Maybe we will move toward a PM Chester Cooper. Or a PM Shanendon Cartwright. Or (for a wild card) a PM Sebas Bastian. Or perhaps the country's first female prime minister will rise up.
Bahamians can only hope that the pandemic will be over by then, and the country on its way to healing and growth as we slowly make our way out of decades spent in a political desert under the leadership, as it were, of Christie, Ingraham, and Co.